Product of the Week: Glytone Ultra Heel and Elbow Cream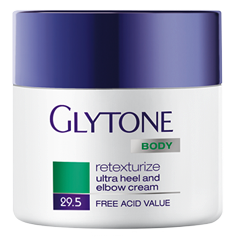 • For dry, rough skin on heels, elbows and knees: Scaly plaques or Cracked skin
• A unique smoothing cream to help re-texturize and soften areas on the heels and elbows.
• Utilizes unique qualities of highly concentrated Free Glycolic Acid, mineral oil and glycerin to retexturize and soften.
• Provides vitamin E benefits.
• Helps stimulate cellular turnover and collagen production, to promote healthier looking skin.
For more information on the Glytone Ultra Heel and Elbow Cream and other Glytone products, please continue reading here.